Son of Obsidian Theme for Visual Studio Code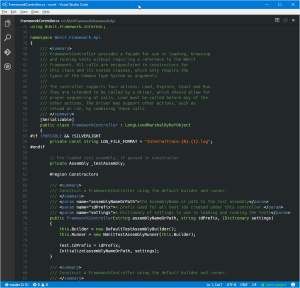 On November 18th during the Connect(); event, Microsoft announced the open sourcing of Visual Studio Code and its support for extensions. I'd already created a theme for Visual Studio Code based on Son of Obsidian, so I pulled down my theme from GitHub and got to work converting it to an extension. Before the end of the Visual Studio Code announcements, I had my theme converted and uploaded to the new Visual Studio Marketplace. I think I was the first extension uploaded to the Marketplace post announcement and my theme is currently the 5th most downloaded.
If you want to install it, in Visual Studio Code, run ext install theme-obsidian or, simply hit CMD/CTRL + Shift + P, search for "Install Extension", and then search for "Obsidian".